Downtown Columbia SC Hotspots | The Vista, Five Points and Midtown
---
Columbia SC

The first thing I learned when I got my real estate license was the term "location, location, location". It's quite obvious that people have different wants, needs, and ideas of where they want to live. I personally always felt like the city was a little too loud and congested but I'm now starting to see the benefits of why city life is so desirable. I thought I'd tell a little about the City of Columbia and different areas so that a buyer can take this into consideration when buying a home in Columbia, SC.

The City of Columbia, as I know it, is broken into several areas. It's difficult to explain every part of the city in one sitting so I will try to highlight some of the most popular and diversified sections in the city. These sections include The Congaree Vista, Five Points, and the Midtown or Downtown section. The City of Columbia has done generous revitalization to these areas in the past 5-10 years and it has certainly paid off. There is now an ongoing revitalization of Main Street which I predict will be the next hip part of Downtown as it was in the mid-twentieth century.
Five Points

Five Points has always been an attractive section to me as I was growing up in Columbia. I'm not sure if it is because of the trendy college bistros and second-hand stores or if it was because this was the first place I ever had a beer publicly. In either case, Five Points seems to be the main ingredient for Columbia. There's nothing like the sight of the Andy's Deli sign-on Greene Street, or the bathtub that sits on top of Yesterday's marquee that decorates the historical landmark in 5-points. It's no wonder that Shandon, Rosewood, and Wales Garden are some of the desired residential sections in Columbia. With 5 points adjoining these historic neighborhoods, it is a quick walk to Starbucks for a cup of coffee or an afternoon of shopping in any of the specialty shops. You can find almost anything here from bicycles to dog medication, to fresh-cut flowers.
The Vista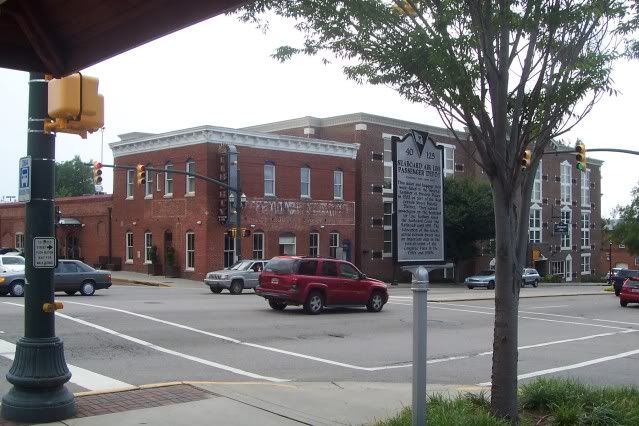 The Vista has made a huge comeback from the days of the train depot decades ago. It seems that every building has been transformed into a commercial establishment. With many visitors coming through this area on their way to The Colonial Life Arena, or any of the popular University of South Carolina Gamecocks athletic events, it has become THE hot spot in Columbia and has managed to put 5-points on the back burner for commercial investors. Although most of The Vista consists of Industrial and Commercial real estate and occasionally you will find a few condos and townhouses for sale. There are plenty of high-end rental units to be found and since the demolition of CCI(Central Correction Institution) and there are also riverfront multifamily residences for sale near The Vista, Finlay Park, Riverbanks Zoo, Columbia Riverwalk, and Riverfront Park. Although there is a Publix Grocery Store on the corner of Gervais(pronounced Jer-vay) and Huger(pronounced Hue-Gee) I consider this area of town to be primarily a business district. Hotels, dining, nightlife, art galleries, and independent businesses occupy this area and make for a great tourist destination.
Midtown- Downtown Columbia SC

Downtown is the area directly in front of the State House starting on Main and Gervais and ending somewhere near Elmwood Avenue. Mostly skyscrapers, government complexes, historical buildings/churches, and converted residential homes to law offices occupy this area. I've found that most of this section shuts down in the evening and weekends due to the lack of patrons that work here during normal business hours. Just recently, again with the revitalization, things have started to change for this area. The Columbia Museum of Art, The Sheraton Hotel, and small taverns like The Whig have brought a new attitude to this aging street. It is once again becoming a neighborhood of sorts. Similar to The Vista it lacks a residential community that the south is known for. Not many picket fences in this area but plenty of history and culture here. The State House grounds complete the rich history and the unique southern architecture that locals love. This area is an important and very productive part of Columbia and can easily be overlooked by visitors. Residential real estate sales here are almost non-existent. Most residents that desire Downtown/Midtown tend to favor the perimeter of this section in either Cottontown, Forest Hills, Earlewood, Elmwood Park, Governors Hill, or USC.
These are currently the most popular sections within the city. I will have additional descriptions in the future so please subscribe to this blog for updates. I will also extend outside of the City of Columbia in later posts to include Blythewood, The Northeast, Irmo, Lake Wateree, Lake Murray and so on.
We feel that personal service and knowledge is the key to a good real estate transaction.
Please contact us with any questions that you have. We can be reached at the contact information below.
We also offer a free MLS Search
---
---