All about Rosewood Drive
---
Rosewood drive is the 4-lane stretch from Garners Ferry Road(near Fort Jackson) to Bluff Road(Near Olympia and The State Fairgrounds). Rosewood drive is traveled heavily by students of Midlands Technical College and The University of South Carolina. It is also a good route for Ft. Jackson soldiers to travel to favorite spots in downtown Columbia. Rosewood Drive makes for a great alternate route to 5-Points(by turning on Harden Street), The Vista (By turning on Assembly Street), and of course Williams-Brice stadium at The State Fairgrounds. You can jump on Rosewood drive by getting off of I-77 at the Fort Jackson exit.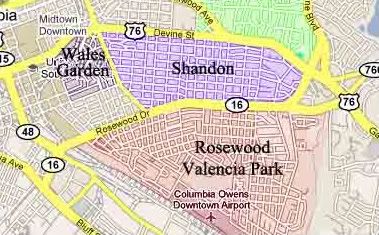 Rosewood Drive also makes for a good physical division of the prestigious Shandon Neighborhood and the Rosewood/Valencia Neighborhood. Shandon is bounded by Rosewood Drive on the South, Harden Street on the West, Devine Street on the North and Beltline Blvd. on the east. There is usually plenty of homes for sale in Shandon.

The Rosewood Neighborhood (which also informally includes Valencia Hills) is inversely bounded on the North by Rosewood Drive, the East by S. Beltline Blvd., and the South by the railroad running parallel to Shop Road. You can also usually find a good deal on homes for sale in Rosewood.

There are plenty of non-fast food restaurants in this area such as Rockaways, Rosewood Dairy Bar, and Pizza Man Pizzeria.
For more information please contact one of our Columbia SC Real Estate Agents or feel free to search the columbia MLS listings.
---
---